Tonight we saw a show that was truly amazing here in Eureka Springs at the Intrigue Theater. Illusionists Sean-Paul and Juliane have created an amazing show entitled The Illusionist and the Ghost talker.  They have turned a hundred year old church into their venue seating about 75 people.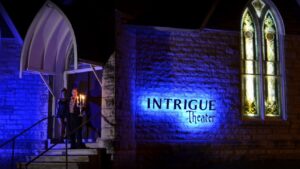 The event is actually three shows: the intro, performed by one of the staff was a short set with comedy and a few very corny magic tricks to prep the crowd for the main event. Next up is Sean-Paul who delights you with stories and illusions for the next hour. He did five illusions, involving the audience and thoroughly entertaining all of us. His presentation is superb and such a professional. Juliane is his assistant during the acts and she also does some things that are amazing as well as very funny. No spoilers here, you HAVE to go see them. At the end of Sean-Pauls act is a small intermission and then the headliner is Juliane and Sean-Paul as her assistant as she communicates with the spirits. I have seen acts like this on the internet and TV, and always KNEW the crowd had given information to the artists beforehand. That was, of course, before Debbie and I were one of the 'targets'. We were asked to hold something unique in our hand while Sean-Paul walked around with a mike and a blindfolded Juliane (blindfolded and ears checks for any listening devices by a audience member) on stage to pass on what the spirits told her. Not only did she identify the purse hook Debbie had, but also mentioned we were both in IT, I was a Packer fan, from Illinois and also a message from the spirits to remind me that next week was Debbie's birthday since I forget that date a lot.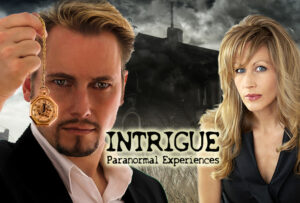 Mind – Blown.
These guys will be appearing on Penn & Tellers show Fool Us in early August so you can get a taste of the act. You can get tickets here and find out more about this stunning Eureka Springs attraction here.