Did you know the city of Eureka Springs was founded on July 4th? All the way back in 1879.  Come on over and help us celebrate our birthday and the country's birthday!
Starting on July 1st ,  The Eureka Springs Historical Museum presents the Happy Birthday Eureka Springs Stroll.  This fun-filled historical event will take place on Saturday, July 1st and Sunday July 2nd, from 5:00pm to 8:00pm. Tours will leave the parking lot every 30 minutes, with tours lasting one hour. This tour focuses on the "upper loop" of Eureka Springs. A historical character will be featured outside each home or landmark giving a brief summary of the significance of the structure pertaining to the history of Eureka Springs, and the people who resided or worked there. Click here for more information and to buy tickets.
Also on the 2nd, the Eureka Springs parks department decided to bring fireworks back after an eleven year absence. Rumor has it, that this was done to help celebrate the new owners of The Woods Cabins! Well, that's the rumor between Debbie and I.  Actually, I think the new parks director may have had something to do with it. The fireworks will be out at Lake Leatherwood Park on Sunday, July 2nd. You can spend the day swimming,  hiking, boating (boats, kayaks and canoes for rent) or just relaxing in the Park.  Concessions will be available beginning @ 5:00PM.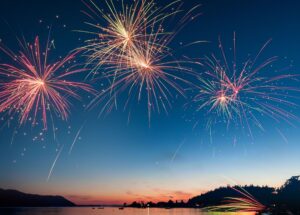 FREE in town parking at Planer Hill Transit station.  Shuttles (also no charge) will be running from 5:00PM-11:00PM to and from the Lake make your day even more relaxing and convenient.
Parking @ Lake Leatherwood is $5.00 per vehicle.  Special parking will be available for church vans & buses.  The fireworks extravaganza will begin @ 9:30PM.
On the 4th, there will be a parade downtown! Eurekians don't miss a chance for a parade.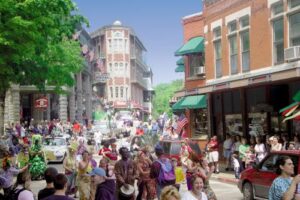 Come in your patriotic colors, and you can also dress up your dog and bring him or her as well.  After the parade get a load of the events happening in Basin Street Park:
Meet Ms. Apple Pie Queen
Meet Mr. Firecracker
Apple Pie Contest
Best Dressed Dog
Watermelon Seed Spitting Contest
Hula Hoop Contest
Hot Dog Eating Contest