Ever wonder what you can do with a chainsaw? Wonder no more…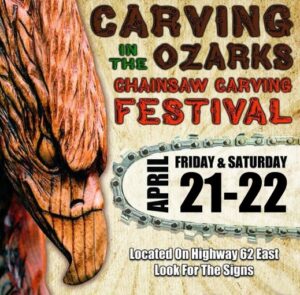 Here in Eureka Springs on April 21st and 22nd, dozens of competitors will show their skills with wood to help raise money for the Eureka Springs Fire Department.  There will be representatives from some major chainsaw manufacturers as well as other professional and amateur chainsaw artists turning logs into anything from bears to benches to birds.
Admission is free and on Saturday afternoon the pieces with be judged and then auctioned off.  I'm looking for a Bear flashing a piece sign … think I'll find one?
The event will be at the  "Old Victorian Inn" parking lot, 4028 E. Van Buren, Eureka Springs AR 72632.
Bye for now,
Tom Reay – Innkeeper