After a short winter hibernation, the town is starting to wake up for another amazing season of fun, relaxation and a little craziness here in Eureka. We are starting to see the daffodils that we planted all over the property poking towards the sky, telling us we need to hurry as Spring is on its way.   We still need to repaint the waterfall pond and wrap up all the winter improvements we made to the cabins for our wonderful guests.   I will share all the updates we made in the next few weeks!
Eureka Mardi-Gras started with a fun night Parade last weekend and events ongoing for the next few weeks.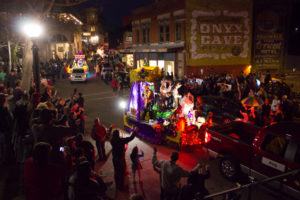 The Mayors Ball is on the 10th from 7 till 11. One of Eureka's hottest parties, presented by the 1905 Basin Park Hotel, is a major social event during the celebration of Mardi Gras. Dress in your finest pirate attire and join the Greater Eureka Springs Chamber of Commerce for a night of live music and dancing!
Also on the 10th is the Mayors Krewe & Second Line in the Eureka Gras Costume Parade!  This is a fun opportunity for all our visitors to participate in one of our cities' day parades first hand. Costume Parade: Open to Locals and Guest to participate 2:00. If you want to play,  gather at the Eureka Springs Library: No later than 1:45 and help escort the Mayor thru town.