Don't worry, they don't bite. We have the 25th annual Eureka Springs VW Festival, swap meet and tourcade coming August 24th till the 26th.
There will be events all over the town with the bulk of the activity at the Inn of the Ozarks on 62. Of course there will be a parade at 3:00 on Saturday thru downtown.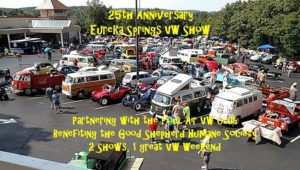 On Sunday the whole group heads out for a 2 hour drive around some of the beautiful roads here in NW Arkansas.  Click Here for the official web site and registration.