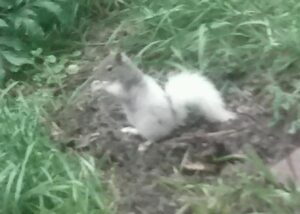 Our head of housekeeping lives a stones throw from The Woods and has been seeing these mythical creatures for weeks. I was claiming there is no such thing as a white squirrel. I told a friend of ours her claim and she told me a tale that could be true. Back around the early 1900's a carnival truck overturned coming down into the little village of Eureka Springs and all but a few animals were killed or ran off. On that truck (you know whats coming) were one of the largest collections of white squirrels in this part of Arkansas. There were probably 20 of them that survived that accident. For many years the white squirrels thrived until their pelts became in high demand in Little Rock, by the bourgeoisie part of that community. There were just a few that survived the near extinction from the traders that profited from the skins of our beloved white squirrels. Those sightings in this area were regarded as myth and legend…. until today:
"I finally captured some decent pictures of one of our white squirrels! They are so hard to get a good picture of because they don't stay still very long! I am so in love with these little guys! I have never in my life seen a white squirrel! They come and eat in our yard just about every morning!"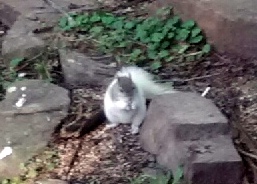 There you have it. A personal first hand sighting. The White Squirrel has returned to Eureka Springs!